Egg Step by Step Basic Shading Tutorial
This tutorial explains the basics of shading using an egg with a simple surface and background. It also shows the practical application of different types of pencil strokes and can be particularly helpful for beginner artists.
For an explanation of the different types of strokes used in this tutorial see:
Shading Techniques and Stroke Types
Step 1 – Egg Shape Outline
The egg is a very basic shape so there is not much to do in the initial step. Simply draw the outline shape of the egg. You can also draw a horizontal line to indicate the edge of the surface it's sitting on.
Step 2 – Determine the Light Sources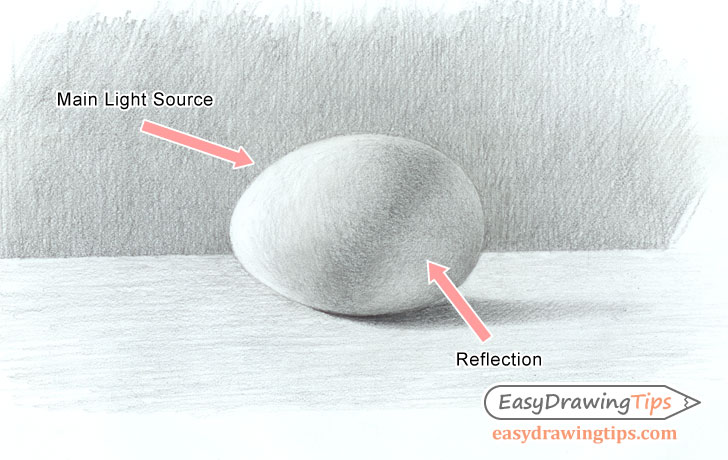 As you can see based on the final drawing the light will be coming from the left. This means that the far left side of the egg will be the lightest and the right side will be in the shadow.
You will also notice that the egg has a light spot in the middle of the shaded area. This is due to the reflection from the main light source. Note that the area illuminated by the reflection is not as bright.
The darkest area of the drawing in this case will be the base of the drop shadow which will be cast opposite of the light source.
Step 3 – Basic Stroke Directions
Make several light strokes throughout the drawing to indicate the direction of the strokes.
Use curved for the egg to reinforce it's shape.
Do a cross hatch for the background (see the different directions of the strokes on each side of the drawing).
For shading the surface use a one directional horizontal strokes.
Step 4 – Cross Hatching
Step 5 – Shaded Drawing
As you can see the different strokes help to create three distinct surfaces and the shading gives an appearance of volume to the egg and depth to the drawing.
Conclusion
Drawing an egg along with a basic surface and background is a fairly simple but very useful exercise. It allows you to practice applying different types of strokes and to gain a better understanding of how light effects different shapes and surfaces.
For more on shading different kinds of shapes see:
Drawing & Shading Basic 3d Shapes Tutorial